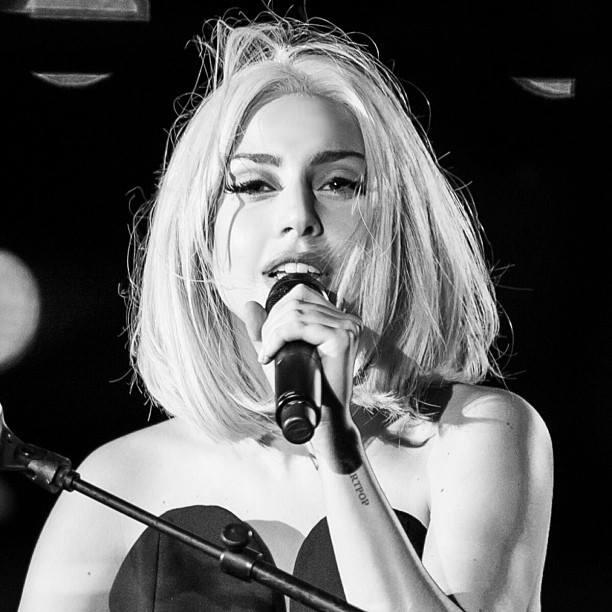 Little Monsters, it's time to brace ourselves: Lady Gaga has finally broken out of her self-imposed media blackout and made a speech at a gay pride rally in New York City. She went on to sing a beautiful rendition of "The Star-Spangled Banner" a cappella.
This is one of the first times Gaga has partaken in a public event since February, when she was forced to cancel the remainder of the Born This Way Ball Tour after a hip injury. From February until now, us Little Monsters have had to track her via paparazzi photographs, but hopefully this is a sign that Gaga is finally stepping back into the spotlight and, more importantly, is ready to release ARTPOP.
While at the event, she gave a speech over equality for the lesbian, gay, bisexual, and transgendered community. After her speech, she broke out into "The Star-Spangled Banner," and she sounds better than ever. The piece was a cappella, giving her time to slightly stylize the piece. Many artists go overboard with trying to make their rendition of the country's anthem unique, but Gaga kept it rather traditional, minus the fact that she did purposely change a few lyrics to support the gay pride event towards the end. You can listen to it below; I'm sure you can agree that everybody else's faves have been slayed by that amazing performance.


Going back to
ARTPOP,
many Little Monsters will have their eyes peeled for information on the album today, due to
a letter that Gaga wrote
exactly one year ago to some fans waiting outside her hotel. On both sides of the paper, Gaga post-dated the note for June 29, 2013, when in actuality, it was written on June 29, 2012. Ever since then, we have been speculating that something related to the album will happen today. I don't want to get my hopes up, but I can't help but be a bit excited... She obviously had a reason for writing the wrong year on the note twice, so perhaps we will find out today. If we don't, I'm not going to be upset or anything, but I'm sure plenty of people in the fan base will be and I will be there to watch the meltdowns in real time.