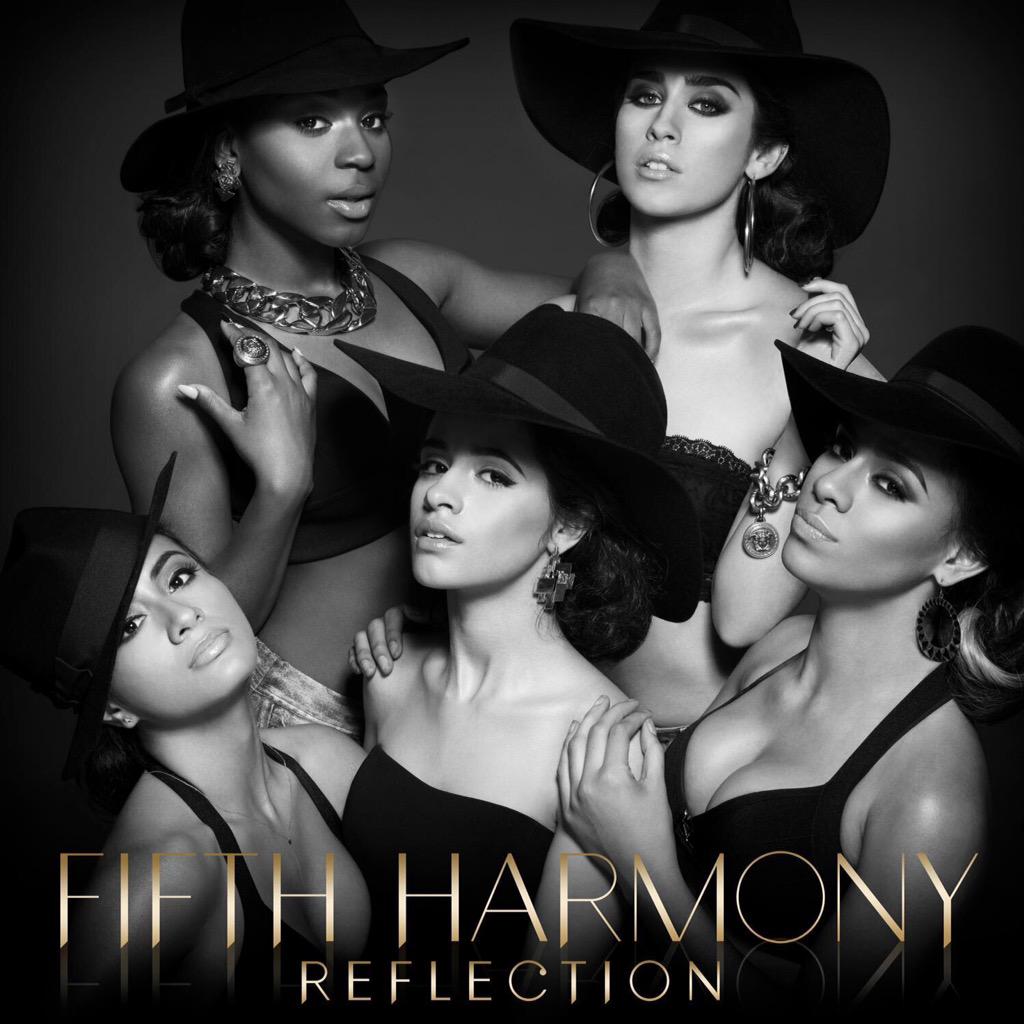 Fifth Harmony has followed a long and winding road to the release of a debut album, but the end of that road has finally come for Ally Brooke Hernandez, Normani Kordei, Dinah Jane Hansen, Camila Cabello, and Lauren Jauregui. After placing third on the second season of the now-defunct American leg of The X Factor and changing their collective name twice, the group dropped a pre-teen-friendly extended play, ran multiple small tours, and began work on their full-length debut, Reflection. In just over one year, Fifth Harmony has transformed from the headlining act of a Justice clothing store soundtrack to a wholehearted attempt to become America's new favorite girl group.
Despite shaping a new identity as a sassy, confident female five-some with "BO$$," a full length album proves that, in actuality, Fifth Harmony does not have a sound that is entirely their own. They do more than channel their influences; the group's product is a direct Reflection of many notable acts. In particular, "This is How We Roll" tries so hard to emulate will.i.am and Britney Spears' "Scream & Shout," and the girls have no shame in swiping Beyoncé's style on "Them Girls Be Like" by going as far as referencing Beyoncé's "***Flawless" lyrics: "Hashtag we woke up like this, too." On slightly more original notes, the deluxe edition track "Body Rock" sounds like the product of a lovechild between Jennifer Lopez and LMFAO, "Worth It" follows the resurgence of pompous horns kick-started by Jason Derulo's "Talk Dirty," and "Everlasting Love" could have easily been picked up by Ariana Grande if Fifth Harmony had not already performed it.
Meghan Trainor, who already hit the number one spot on the Billboard 200 with her debut album this year, took a step away from her own doo-wop style and wrote three tracks for Reflection. Two of her tracks made it to the standard edition, including the album's synthpop single "Sledgehammer," but Trainor's best contribution to the album was pushed to the end of the deluxe pressing; "Brave, Honest, Beautiful" is the driving self-empowerment anthem that could push Fifth Harmony to new heights, especially with the pre-teen audience that they used to cater primarily towards. After comparisons to the likes of Shakira, Beyoncé, Rihanna, and Madonna, the girls tell their listeners that "you're brave, yeah, you're fearless, and you're beautiful."
Besides comparing their listeners to multiple pop divas, the Fifth Harmony gals compare themselves to Mariah Carey in a track aptly titled "Like Mariah." Integrating aspects of Carey's "Always Be My Baby," the cutesy track finds the girls proclaiming,
"Your loving takes me higher, you set my heart on fire / When you touch my body got me singing like Mariah."
The elusive chanteuse herself even seems to approve of the song,
re-tweeting multiple positive tweets
about it upon the album's streaming premiere on January 27. Other glaring highlights from the album include the aforementioned "Sledgehammer," which earned the group their first Top 40 hit on the Billboard Hot 100, and
the killer opening track, "Top Down."
All of the elements of a successful girl group are in the blend of Fifth Harmony. Whether it has been the severe lack of promotion, unorganized single release timing, or simply the lack of demand for another new girl group, something has not clicked between Fifth Harmony and radio listeners. Although some of their songwriters need a few more lessons and they are dependent on their slew of influences from powerful predecessors, all five ladies clearly have vocal talent, and together they compose a sufficient group. Reflection does not paint a picture of five sophisticated, well-versed young women, but it does radiate with self-assurance and sass. A feel-good album was expected from Fifth Harmony, and that is exactly what has been delivered.
Reflection
will be released on February 3, 2015 under Epic Records and Syco Music. An exclusive signed version can be found for a limited time through Amazon.com. It can also be streamed prior to release via iTunes Radio First Play.